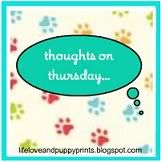 Thursday's thoughts:
It's my first link up...I'm not so sure I did this right. Let me know if something looks weird
KB sort of made dinner tonight. He was in charge of baking it. I'm not exactly sure it is all the way cooked. I hope I don't end upwith some weird foodborne illness.
My darling Panchy decided to eat all my shoes today! Apparenlty the door ot my closet room somehow got open and it seems like ONE of every pair I own is chewed on.
It's going to be cold this weekend. I had just gotten spoiled with it being over 30 degrees and now it's going to be sub zero (ok maybe not that cold) again.
Tomorrow is Friday and I get to leave work a little early!
I have worked out every day this week. I'm trying to only weight myself once a week so hopefully I'll see results and not get discouraged.
What are your thoughts on a Thursday?