I'm linking up with
Confessions of a Northern Belle
again to confess my weirdness for this week.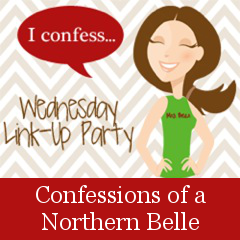 I confess....I've been going crazy on the garden stuff recently. I've already ordered 3 different orders of plants and am just waiting on them to get here so I can plant them. I had KB cut down a ton of trees in our yard, get me a ton of mulch and just generally do lots of hard convict labor. Our yard looked terrible last summer because we moved in during the spring when it was too late to do much. Not this year. Oh no.
Oh our yard will not look like this nasty mess again...
I confess... I got mud all over my shoes and blamed it on Rosa just to see what KB would do. Rosa is his special little girl and can do no wrong in his eyes. He didn't seem to care, but I'm not sure he would've cared if I had just said that I got mud all over the carpet either.
I confess.... I'm kind of fed up with a contractor that I really liked. We're trying to get our kitchen redone and I had a handful of contractors come out to give me bids. I only really liked one of them when he was here....of course he's the one that still hasn't given me an estimate. It's been almost a month. Come one dude.
I confess.... I had big plans to work in the yard yesterday afternoon because it was sunny and it was still daylight, but instead I just ended up watching a few episodes of Girls and calling it a day.
I confess...Besides watching a few episodes of Girls I also watched almost an entire season of Veep. It's hilarious! I saw it pop up on our On Demand stuff and thought I would give it a try. That spiraled out of control into watching almost an entire season.