I"m linking up with Confessions of a Northern Belle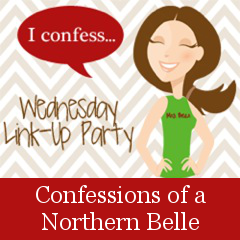 - I confess....I completely scrapped my meal plan for tonight and made up some soup off of the top of my head. I really hope it turns out. It's a weird combo of apples, chicken, bacon, etc.
- I confess...I've been watching a lot of "Pure Vintage" on CMT during the middle of the day while I'm working. We get all these weird TV channels now and KB was watching something on this channel a few weeks ago. Lots of times I turn the TV on just to have noise on and a few days ago I heard some pretty sweet tunes. Who can turn this down? He's really pumped about fishing.
- I confess....I don't have to go anywhere for work anymore but I still really want to buy work clothes. I keep getting all these cataloges with spring clothes in them and I just want to buy them all because they are so fun and pretty.
- I confess...I am sort of excited for turkey season to get here. KB is like a caged animal when he can't go outside and gets all grumpy. Turkey season is the only time he really takes any sort of time off of work and killing animals is really his thing. April can't get here soon enough.
-I confess....I called KB today to tell him there were 6 blue jays on my bird feeder and that the seeds we started are coming up. I'm turning into my grandmother.
-I confess...I looked at BuzzFeed for a good 2 hours the other night and didn't even realize it. There are just so many informative topics on there like
18 Childhood Mysteries We Never Figured Out
or
Heidi the Rabbit Goes Swimming with a Life Jacket to Help her Arthritis
. That's ground breaking stuff right there.
-I confess....I started watching Girls on HBO and loved it. So I watched the entire first and second season.....in one day. At least they are short episodes. I'm pretty sure I want to look like Marni forever.